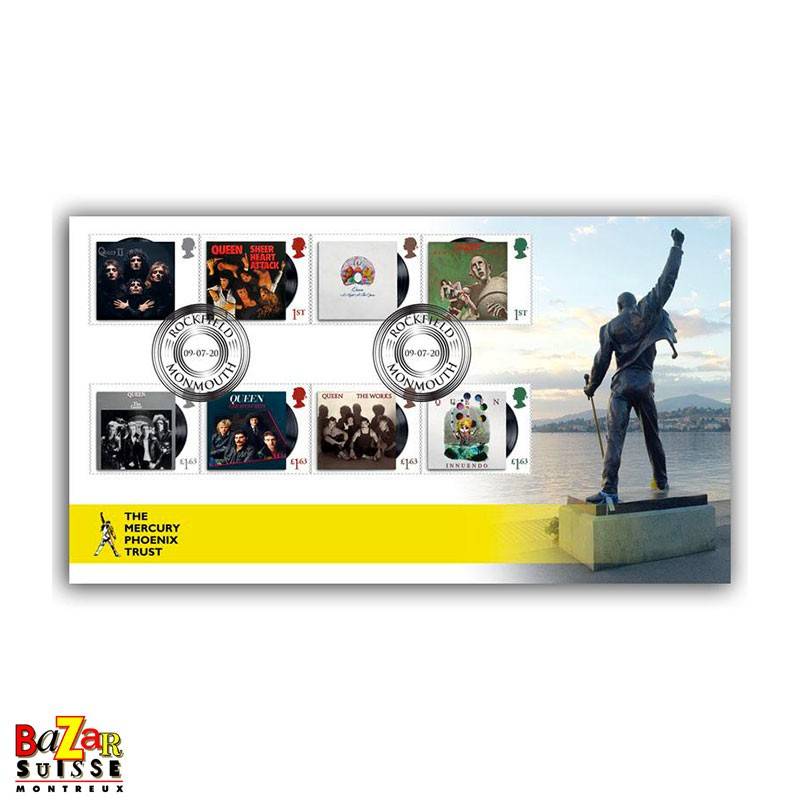  
Stamps - A Tribute to Queen First Day Cover
Stamps - A Tribute to Queen First Day Cover
On the 9th July 2020 Royal Mail issue a set of stamps to celebrated one of the UK's greatest music legends on the 50th anniversary of its formation. Queen have over three decades of hits to their name so it is no surprise that there is a Queen song for everybody. What is extraordinary however is the fact that the time they spent with their iconic front man, Freddie Mercury, has been eclipsed by the time since he sadly passed away, yet the band remain as popular as ever.
Working in association with The Mercury Phoenix Trust, founded by Brian May, Roger Taylor, and their manager Jim Beach, this covers pays tribute to Freddie Mercury, in the global battle against HIV/AIDS. Our striking cover perfectly highlights the iconic Queen album stamps and features a stunning image of a Freddie Mercury statue along with our Rockfield, Monmouth postmark (9th July, 2020).
Featuring the following stamps:
Queen II – 1974
Sheer Heart Attack – 1974
A Night at the Opera – 1975
News of the World – 1977
The Game – 1980
Greatest Hits – 1981
The Works – 1984
Innuendo - 1991
Secure payments
We accept payment on our on-line shop by bank transfers and major credit cards.
Delivery
We ship daily to most countries.
Contact
You can call our shop in Montreux at : +41 21 963 32 74
Customers who bought this product also bought: