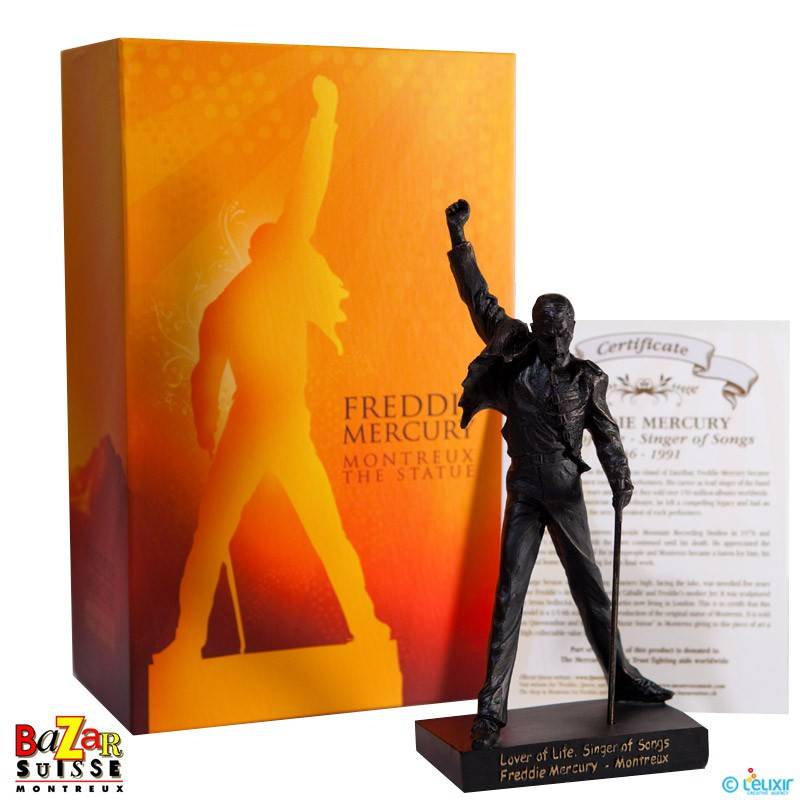  
Freddie Mercury Statuette
Freddie Mercury statuette
Born Farrokh Bulsara on the East African island of Zanzibar, Freddie Mercury became one of the world's greatest rock music performers. His career as lead singer of the band Queen spanned twenty years and together they sold over 150 million albums worldwide.
Innovator, showman, musician extraordinaire, he left a compelling legacy and had an enormous influence on the next generation of rock performers.
Queen acquired the Montreux lakeside Mountain Recording Studios in 1978 and Freddie's strong links with the town continued until his death. He appreciated the kindness and discretion of the townspeople and Montreux became a haven for him, his second home and the setting for his final work.
A large bronze statue, standing 3 meters high, facing the lake, was unveiled five years after Freddie's death by Montserrat Caballé and Freddie's mother Jer. It was sculptured by Irena Sedlecka, famous Czech artist now living in London. This is to certify that this model is a 1/14th scale faithful reproduction of the original statue of Montreux. It is sold on Queenonline and in the store "Bazar Suisse" in Montreux giving to this piece of art a high collectable value for every fan. Made in epoxy resin, size is 21cm high.
Part of the price of this product is donated to The Mercury Phoenix Trust fighting aids worldwide.
Official product © Queen Productions Ltd

You will find here all informations about Freddie Mercury statue in Montreux.
Secure payments
We accept payment on our on-line shop by bank transfers and major credit cards.
Delivery
We ship daily to most countries.
Contact
You can call our shop in Montreux at : +41 21 963 32 74
Customers who bought this product also bought: