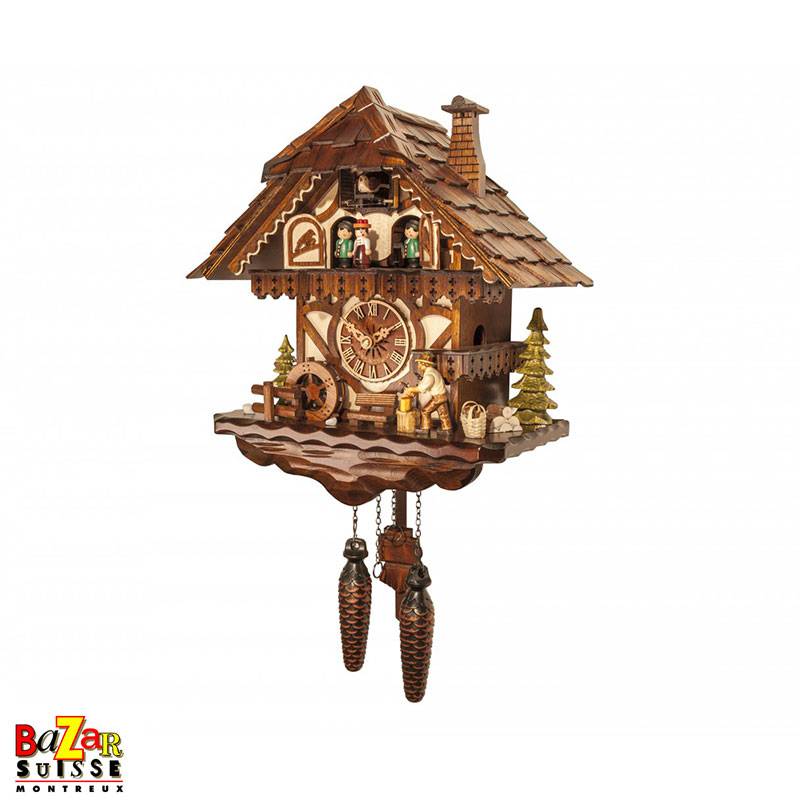  
Quartz cuckoo-clock - wood cutter/water mill/dancers
Black Forest cuckoo clock « Swiss chalet » style with music (plays 12 different melodies)
While the music is playing, the dancers and the water mill turn and the wood cutter moves his arm up and down.
Included : 3 batteries type C (LR14) 
The manufacture and decoration of a quartz cuckoo clock is identical to a mechanical cuckoo clock. Except for the movement.
It is all wood (except the bird and the little door) and handmade. The wood used is usually linden wood. The roof is a shingle roof type. Many hundreds of small wooden plates cut and glued by hand. The movement works with 3 batteries type C (LR14).
The cuckoo sings every hour (for example at 09:00, the cuckoo sings 9 times and so on, followed by an echo and a slight river sound in the background). The singing stops automatically thanks to an electronic cell, night detector. You can adjust the volume and stop the cuckoo clock by means of a simple switch on the side.
The pendulum constantly swings from right to left and the weights are decorative, there is no need to wind them up.
Height of the cuckoo clock without the weights and the pendulum 32 cm, 12,5 inches high and 30,5 cm, 12 inches wide.
Comes with instructions in several languages.
Included : 3 batteries type C (LR14) (CHF 11.85)
Secure payments
We accept payment on our on-line shop by bank transfers and major credit cards.
Delivery
We ship daily to most countries.
Contact
You can call our shop in Montreux at : +41 21 963 32 74