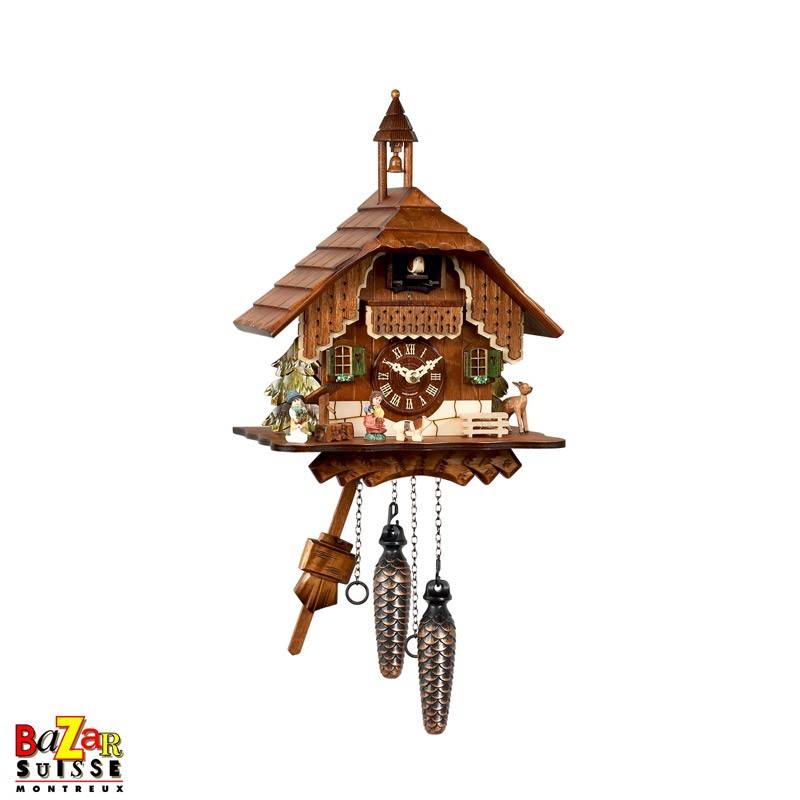  
Quartz cuckoo-clock - bell tower/kids
Black Forest cuckoo clock « Swiss chalet » style
Included : 2 batteries type C (LR14)
The manufacture and decoration of a quartz cuckoo clock is identical to a mechanical cuckoo clock. Except for the movement.
It is all made of wood and also hand made. The wood used is usually linden wood. Only the bird, the small door and the hands are made of plastic. The movement works with 2 batteries type C (LR14).
The cuckoo sings every hour (for example at 09:00, the cuckoo sings 9 times and so on, followed by an echo and a slight river sound in the background). The singing stops automatically thanks to an electronic cell, night detector. You can adjust the volume and stop the cuckoo clock by means of a simple switch on the side.
The pendulum constantly swings from right to left and the weights are decorative, there is no need to wind them up.
Height of the cuckoo clock without the weights and the pendulum 31 cm, 12,2 inches high and 23 cm, 9 inches wide.
Comes with instructions in several languages.
Included : 2 batteries type C (LR14) (CHF 7.90)
Secure payments
We accept payment on our on-line shop by bank transfers and major credit cards.
Delivery
We ship daily to most countries.
Contact
You can call our shop in Montreux at : +41 21 963 32 74