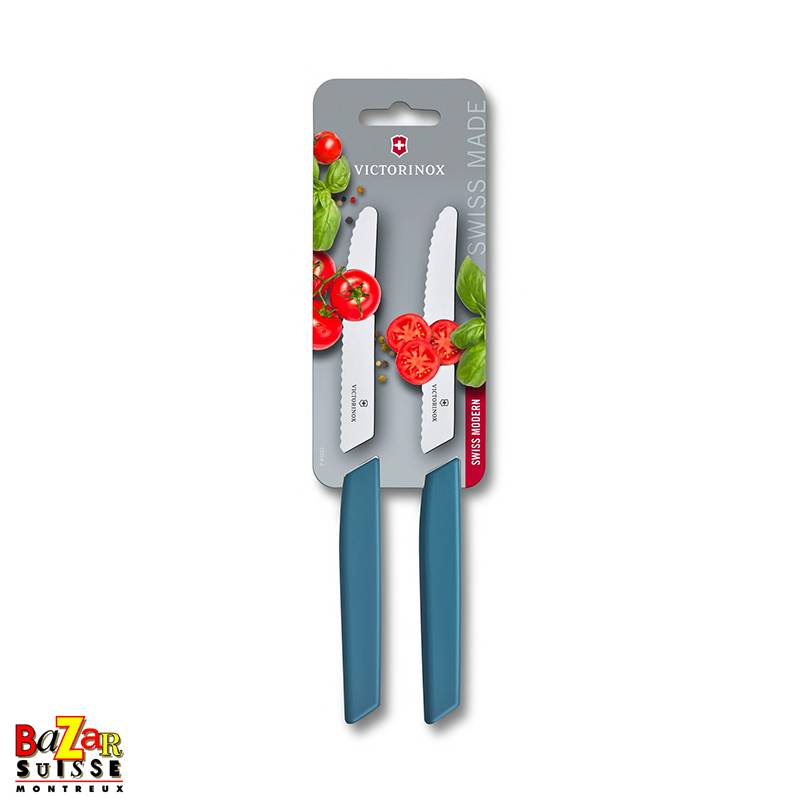  
Swiss Modern Tomato and Table Knife Set - Victorinox
Ideal for fruits and vegetables with a hard skin and a soft core
Swiss made tomato and table knives set with wavy edges
With ultrasharp, wear-resistant, stainless steel blades and modern synthetic handles
Stainless Steel Blade with Wavy Edge
Expertly fusing form and function, these knives add a contemporary twist to your table setting. Crafted from resilient stainless steel, the supersharp blades slice smoothly through fruit and vegetables, while the anti-slip handles are a dream to hold. In a range of colors, the Swiss Modern Tomato and Table Knife Set, 2 pieces is perfect for the design-savvy home cook.
Length of blade 11 cm
Weight 56 g
Secure payments
We accept payment on our on-line shop by bank transfers and major credit cards.
Delivery
We ship daily to most countries.
Contact
You can call our shop in Montreux at : +41 21 963 32 74