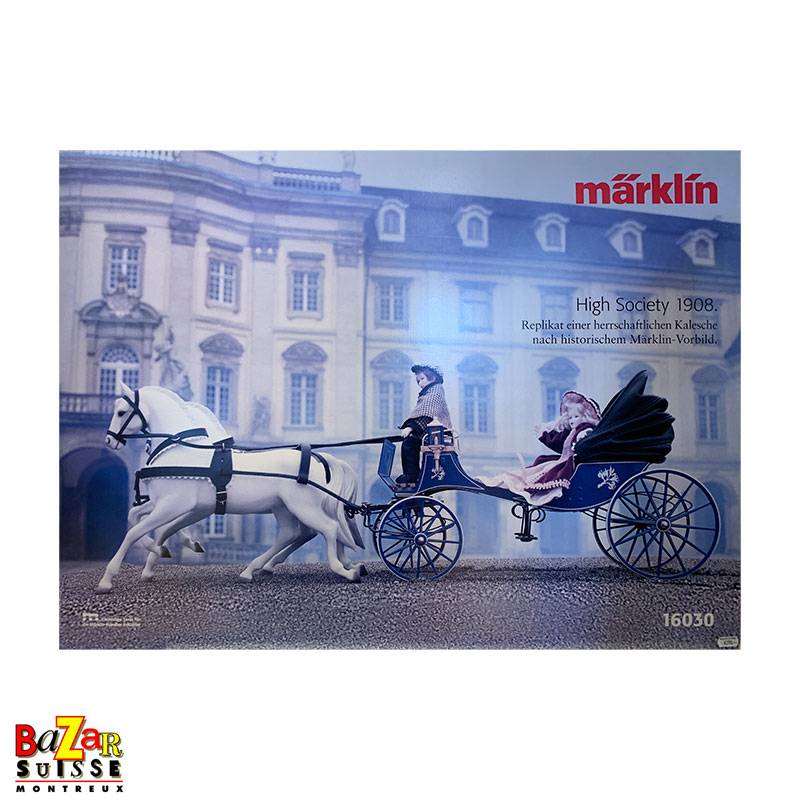  
Replica of a bourgeois carriage "High Society" 1908 - Märklin
Replica of a bourgeois carriage 1908 - Märklin
Three renowned manufacturers - Hutschenreuther, Heidi Ott and Märklin - participated in this extraordinary project : the reproduction of a marvelous carriage from the Märklin catalog of 1908. Using original models, the tooling was reconstructed and the master mattress for the horses and dolls were newly modelled. Each reproduction is an original in itself - of particular value for collectors and anyone who appreciates high quality models.
Design and manufacture of the dolls by Heidi Ott. Delicate faces with the finest of coloring, laboriously made clothing and handmade hair underscore the marvelous appearance.
Extensive hand work shows in all of the details. Folding cover of  leather with sewn lining, armchair seating with hand quilted silk, leather harness lined with felt and riveted together with brass part.
Finely detailed Märklin carriage of high quality sheet metal stamped, formed, processed and imprinted with many work step. Separately applied, gold-plated, turned brass parts.
Newly modelled, graceful, dynamically trotting horses. Produced in the finest bisque porcelain by Hutschenreutherwith extensive hand work.
The same raw materials as on the original : sheet metal, brass wood, silk, leather, felt, nickeled wire. Separately applied, gold-plated, turned brass parts.
Limited edition year 1998.
Free shipping
Secure payments
We accept payment on our on-line shop by bank transfers and major credit cards.
Delivery
We ship daily to most countries.
Contact
You can call our shop in Montreux at : +41 21 963 32 74