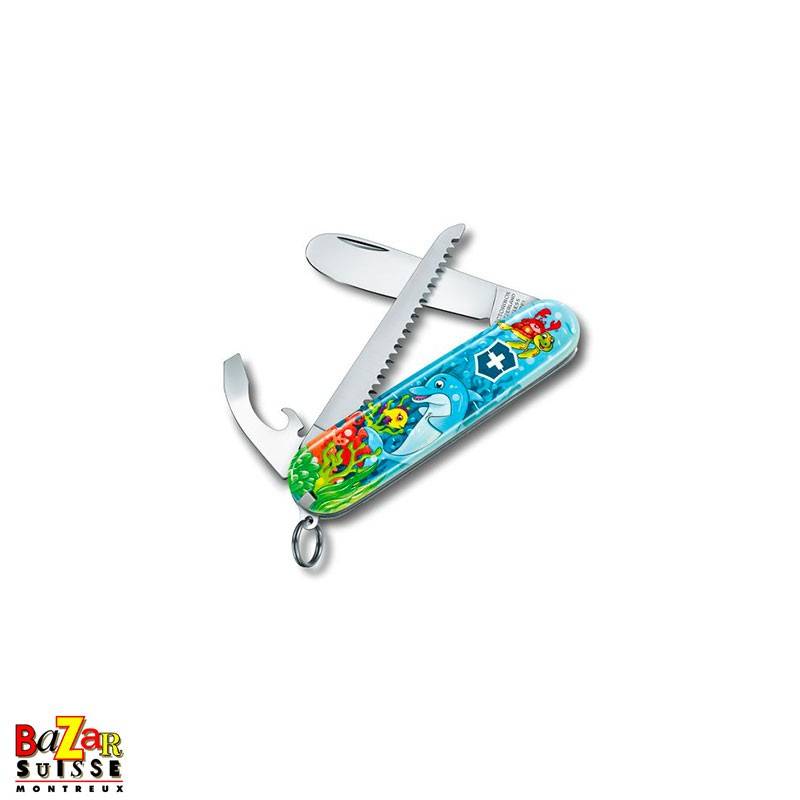  
My First Victorinox Children Sets - dolphin Victorinox Swiss Army Knife
First-use children's pocket knife with rounded tip
Swiss made quality in a choice of three colorful animal designs
Set includes practical neck strap and adventure-filled coloring book
Children's pocket knife with coloring book
Children are naturally curious. Our fun pocket knife set will help them explore and engage with the world around them. In three exciting animal designs, each set comes with a practical neck strap and an adventure-filled coloring book that also shows children how to safely use their knives (with adult supervision). From carving little figures to whittling sticks, help them create memories for a lifetime.
This knife contains the following tools:
large blade with rounded tip
bottle opener
can opener
screwdriver 5 mm
wire stripper
wood saw
key ring
toothpick
tweezers
Height 14 mm
Length 84 mm
Weight 45 g
Secure payments
We accept payment on our on-line shop by bank transfers and major credit cards.
Delivery
We ship daily to most countries.
Contact
You can call our shop in Montreux at : +41 21 963 32 74